A quick answer to simple beauty.
Milk Oil will grant your wishes.
All woman dream of having fine, toned skin. But for people in the modern world, having to apply all sorts of cosmetics day and night for beautiful skin can be tiresome.
"I want to look beautiful, but I don't like the time it takes to care for my skin". For such luxury, the answer lies in Mink Oil skin care.
Mink Oil is a highly popular ingredient for cosmetics
Mink Oil is the oil that comes from the tissue of a mink's subcutaneous fat. It has garnered favor in Europe for over 50 years as an ingredient in cosmetics.
Previously, the safety of cosmetics had come under scrutiny due to damage such as melanoma that occurred by using synthesized cosmetics. This caused Mink Oil to gain recognition for its natural properties, and in 1973 it was registered in the Japanese Standards of Cosmetic Ingredients by the Ministry of Health and Welfare (now Ministry of Health, Labour and Welfare).
It is currently used in a wide variety of items, including basic skin-care products, sunscreen, emollient cream, hand lotion, body lotion, bath oil, shaving cream, hair care products, and treatment agents..
Mink Oil's fatty acid structure
*The JOCS Standard Methods for the Analysis of Fats, Oils and Related Materials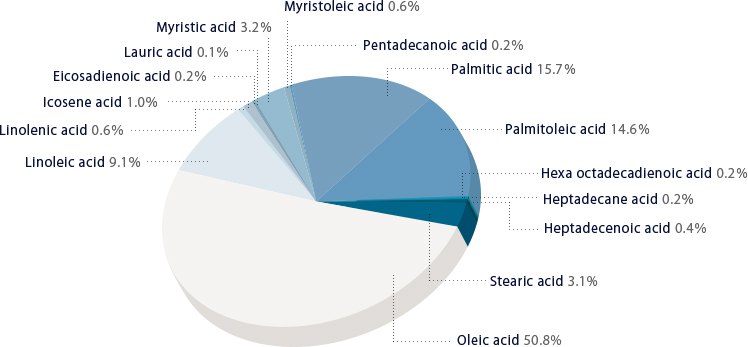 Mink Oil does not irritate the skin and prevents sunburns
Mink Oil's surface tension in regards to ductility (stretching) is extremely little when compared to other animal and plant oils, allowing it to easily expand on the skin's surface, smoothly spread and absorb just like that.
In addition, stress tests on skin and eyelids showed that when compared to plant oils such as olive oil, Mink Oil exerts extremely little stress on the skin.
Mink Oil helps prevent against sunburns. This is because it has the ability to absorb UV rays before they reach the skin. Synthetic UV ray absorbents leave raise concerns regarding stability such as side effects.
Mink Oil is a natural cosmetic that makes skin moist and prevents wear.
It has been said that using oil on makeup foundation in the morning is bad for the skin since it can cause so-called oil burns. Mink Oil, however, prevents sunburns, making it extremely suitable for makeup foundations.
Eliminating the need for basic skin-care products when caring for your hands before bedtime, such as milky lotions, nourishing creams and foundation creams, and not having to separate which cosmetics you use in the morning and night, is one of the reason that the "Mink Oil beauty regimen" has been loved for a long time in Europe.
Once we reach 25 years of age, the secretion of sebaceous matter which acts as a natural cream weakens, making skin lose its richness. While an appropriate supplement of oil content is needed to prevent aging of the skin, once that oil content is insufficient, the skin's balance becomes disheveled causing many skin problems. If you truly want to obtain your ideal beautiful skin, please use Mink Oil skin care daily to give your skin the necessary moisture it needs.
Precautions for Use
● When using for the first time, test on places other than your face such as the back of the hand.
● Be careful for any irregularities that may occur on your skin.
● Do not use when you have irregularities on your skin such as scars or rashes.
● Stop using if it does not suit your skin.
● Take care not to let the liquid enter your eyes. If it does, do not rub, and wash out immediately with cold or lukewarm water.
● If symptoms such as redness, swollenness, itchiness, irritation, color loss (white spot), or blackening occur, stop using and consult specialists such as dermatologists.Continuing usage with may exacerbate your condition.
● Keep out of child's reach.
● Avoid places that are overly hot, cold, humid, and direct sunlight.
● Tighten cap securely after use.
● You may see sediments but they will not affect the quality of the product, since the components are organic.
● The liquid may become cloudy or solidify when kept in a cold temperature environment. In such cases, wait till the liquid is back to normal temperature then use.
Mink Oil
MINK SEAL Co., Ltd.'s Mink Oil is obtained by refining fatty oils taken from subcutaneous fat tissue of minks raised at independent farms all over Europe through a unique catalyst refining technology based on 35 years of work and trustworthy research and development. In recent years it is widely used as a cosmetic and pharmaceutical substrate and is praised by not only Japanese but also overseas businesses.
Composition
Fatty oils obtained from the subcutaneous tissue of minks are refined by MINK SEAL Co., Ltd.'s unique technology.
Standards
JSCI (Component code 104247)
(Based upon standards of Japan's Ministry of Health, Labour and Welfare)
Features・Uses
①This product is refined though MINK SEAL Co., Ltd.'s unique technology. It is therefore colorless and odorless and has excellent oxidation stability.
②Mink Oil is composed of fatty acid tissue that bares an extreme resemblance to the fatty tissues of humans. This fatty acid contains approximately 20% palmitoleic acid. It therefore has low viscosity and does not stick. In addition, it has high ductility on the skin, making it spread and absorb incredibly well. It is therefore widely used primarily as a basic skin-care product and pharmaceutical substrate.
③Little surface tension and high compatibility with other materials makes it especially suitable in working with aerosol treatments. In such cases, it helps prevent against valveclogging.
④Spreads as a light film on the hair's surface with good adhesiveness, giving hair radiance and makes for an easy comb. Its low surface tension also quickens the shedding of dandruff, giving you a smooth scalp.
⑤Widely utilized for its excellent emollient properties in hair care products, treatments, permanent substrates, emollient creams, pharmaceutical creams, ointments, hand lotions, body lotions, suntan lotions, shaving creams, aerosol products, pharmaceuticals and other products (used for polishes, skins and leathers).