G1 HOOF OIL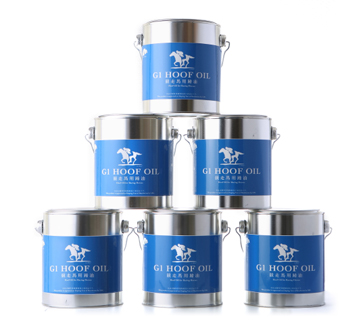 Hoof Oil for Racing Horses
This product is approved on Doping Test of Racehorses by LRC.
Since it is launch in 1988, G1 HOOF OIL
has been supporting numbers of great horse races as a top brand of Hoof Oil.
Today, it is widely popular as the standard of hoof care in racehorse training farms,
not only in Japan, but also overseas countries.
Protects your horses' hoof.
G1 HOOF OIL has a superior ability to penetrate,
so it is best suited for treating the hoof and coat of racing horses.
Since this product is a natural oil,
it might coagulate when it is temperature becomes low,
but it is effectiveness and safety are not affected.
---
Brand name
G1 HOOF OIL
Ingredients
Mink Oil (including 0.05% of Vitamin E)
Contents
16,000mL・1,000mL
Storage
Please store it in a dark place at room temperature,
avoiding high temperature and direct sunlight.
How to use it
Spread it gently on hoof and entire body after removing dirt and
keeping the body clean.
Attention when using it
□Please refrain from using when this is thought to be
unsuitable for your horses.
□When it is solidified, please stir it before using it.
□After opening, please use as soon as possible.
Doping Test
This product is approved on Doping Test of Racehorses by
Laboratory of Racing Chemistry (http://www.lrc.or.jp).
Strict avoidance of the proximity of fire

Please do not use it near any fire.

Manufacturing vendor
MINK SEAL Co., Ltd.
Level 9 Ariake Frontier Building Tower B
3-7-26 Ariake Koto-ku
Tokyo 135-0063 Japan
TEL: +81 50 3734 8328